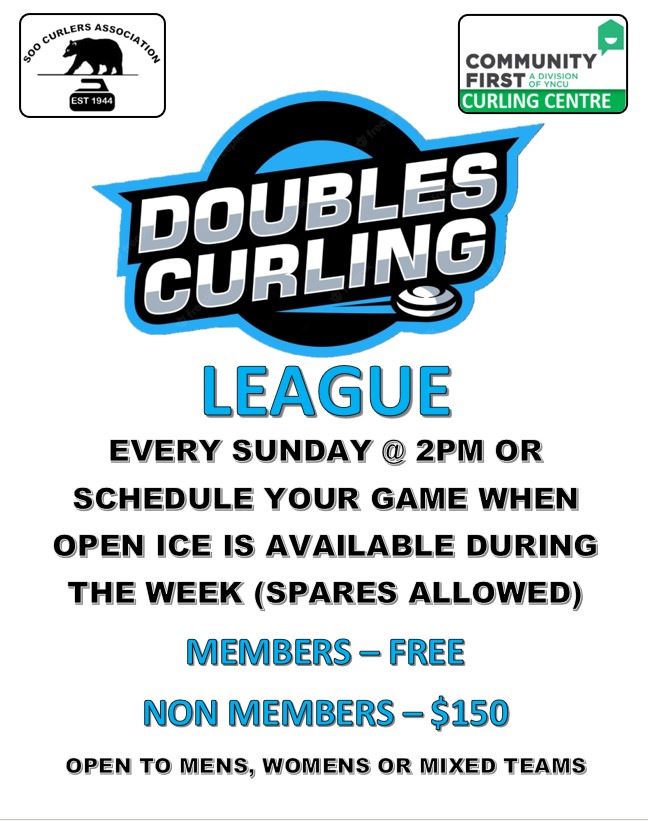 Sunday Afternoon Doubles (Open) - 2 PM 
*NEW THIS SEASON* Doubles Curling is quickly becoming one of the most popular formats in curling. For several reasons 1. You only need two players, 2. It is faster than the traditional game and 3. It is an exciting format with lots of rocks in play. Doubles consists of 5 rocks thrown each end with one curler throwing two stones (1 st rock and 5 th rock of each end) and the other curler throwing 3 stones (2 nd , 3 rd and 4 th rock of each end). Players can switch who is throwing which rocks at the beginning of a new end. At the start of the end two rocks are placed in a pre-determined position. Sweeping your own rock is optional depending on if you want to throw at a broom or not. Teams may be made up of two men, two women, or may also be mixed.
This new league will run on Sunday Afternoons starting at 2:00pm (note: not every Sunday due to bonspiels and events). Games can be made up during the week anytime there is ice available with agreement from the two teams. Sign up as a team of two or contact the Proshop to be put on a team (spares will be permitted for those who cannot make a game), for non-members the cost is $150 Inc HST (free for members)
Draw Times: 2:00pm
Convenor: Robert MacLeod
Brooms and sliders are available to rent or purchase at the Pro shop.
CONTACT US
124 Anita Blvd
Sault Ste. Marie, ON
P6B 4P9
Restaurant: 705-574-1700
Pro Shop: 705-574-1704
Manager: 705-574-1705 
Email: soocurlers@shaw.ca